Hattrick is one of the first online browser manager games. It started in around 1998 and 10 years later, in 2008, it has around 1 million active users (so claimed by them at least) making hattrick one of the biggest online (browser or not) games in the world.


Welcome Screen posing the 10years game life



Hattrick has been through many stages to reach its current form. Its main characteristic is that it never resets. The game continues forever and ever. This makes it difficult but also exciting for the new players as it reassembles a difficulty that can be met in real football as well.

A new player starts by registering in the game site. The first thing that has to be done, is to be assigned a new team. This can be delayed as sometimes a new league will have to be created for the new, extra user. The team you will got will be on your country and only in your country. If you are from USA, you will get a team that will play in USA leagues.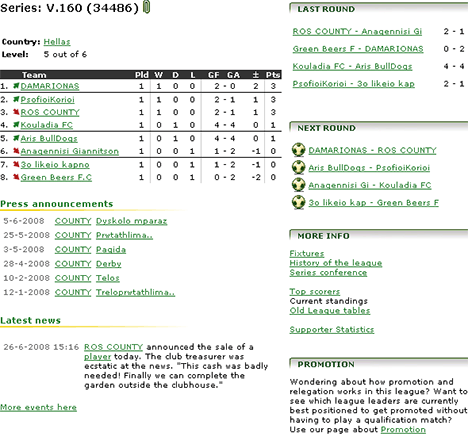 League Screen



Now, once you get your team, you are ready to start. If you have played any manager game before, many things will seem familiar. Hattrick gives you command over numerous aspect of the organization of a football team. Starting from the stadium name, capacity till coach and player signings and of course, game tactics.

Games are like in real time. League matches are played in Saturday or Sunday while cup and friendly games in Tuesday or Wednesday or Thursday. Now there may be some alterations to this according to country but generally, these alterations will fit the real match days for your country league.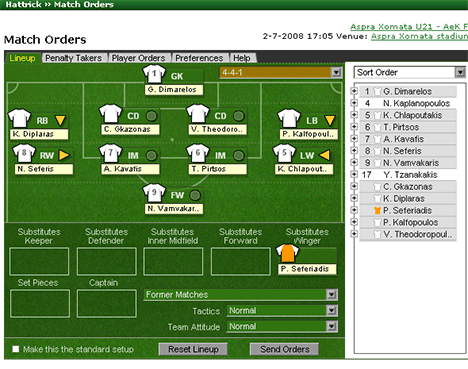 Tactics Screen



Team and player names used are all fictional. Players choose the name of their team while the game generates all the names and skill of the players. Players of course can be trained or transferred. You will be able to raise players from your youth squad as well.

In general, the amount of realism is high in this manager game. The bad thing has to do with difficulty; its really difficult to get in the top league of your country for example. The main reason do not has to do directly with your skill. The teams which exist before yours, tend to be a lot more organized and rich; their resources are a lot larger than yours thus making your efforts even more difficult. This is for sure realistic but not fun, especially when you know it will need 2 or 3 season in this particular league before you will be able to promote (each season is around 3-4 months).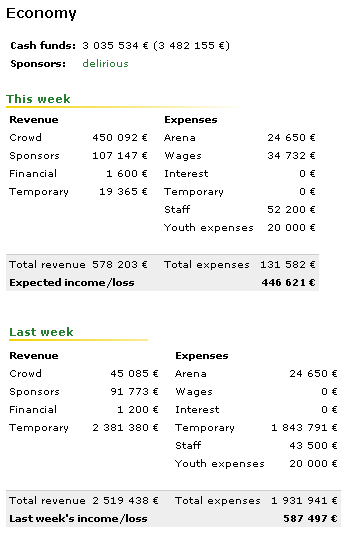 Finances page - a must visit page



There are few graphics to the whole game, only some cartoons but these few as well. Most are text. However, the hattrick community is huge, so the fan sites. There are also many fan sites directly cooperating with the developers of hattrick. Some of these fan sites provide tools for analysis and some graphic tools as well (ie 2d presentation of the game, like in football manager from Sports Interactive & Sega)

The game is free to play but there is a subscription available for those who can and want to pay. As a subscriber, you become a hattrick supporter and you get some non-direct competitive extras.

In general, hattrick is one of the most realistic online football managers games in the net. However, it needs patience throughout the years, especially if you are the type of person that expects results right here, right now.